*活动更改公告:请注意,由于北京疫情防控要求,原定于11月28日在北京举行QS全球研究生院巡展,将改在视频会议软件Zoom举行。

所有参展学校招生官都将亲自上线,通过Zoom,进行实时讲座,你将可以在线收听最新世界顶级大学研究生院的招生政策和申请细节,并在线上与招生官直接音视频沟通,结交名校校友,以及申请QS为参展人提供的总额580万美元的奖学金。这还是你为你理想学校招生官留学深入印象,为成功进入名校奠定基础的绝佳机会。

Zoom会议链接将在活动前,显示在您的报名账户上,如果您有任何问题,请添加QS企业微信小助手咨询(页面下方二维码)或者发送邮件至qsasia@qs.com

本活动全程免费,现在报名,免费参展!
Register Now For Free Entry
---
World's top grad schools, broad range of subjects
Admission directors and alumni from more than 30 prestigious schools including Harvard,Columbia,MITand many more.

Covering a broad range of subjects, , from business to law, from arts to science, etc.
Scholarships exclusive to event attendees, in total $5.8 million
As event attendee, you'll be qualified for exclusive scholarships offered by QS and partner schools, in total $7 million.

Because they are only open to QS event attendees, the competition is much less than might think, so far there're 8 applicants who have received QS scholarships.
Face to face communication, with those who know best
Meet face to face with admission directors, obtaining official information, and personalised advice on choosing school and programme. This is also a perfect chance to impress admission directors, building a solid foundation for application success.

Connect with and learn from top school alumni, those who used to be just like you with many questions, but successfully got into top schools.
Info sessions and seminars, provide what matters to you
School info sessions provide insight into schools and their programmes. Admission directors from different schools explain admission process at the admission panel, plus Q&A.

ETS official will give a presentation about GRE/TOFEL test prep,GMAT exam owner GMAC helps you de-mystifying the test.
Free CV Review by career coach
Free CV Review by career coach to help you get ready to meet the schools!
ETS Special
GRE Info Session by ETS
November 6, 2021 Sat 12:00-14:30
QS Connect Master (Zoom)
不在北京?不用担心,本次活动的上半场:Connect Master,就是特别为了你准备的。

不出家门,你就可以通过视频会议软件Zoom,与远在世界各地的超过25所世界顶尖大学硕士项目招生官,直接视频交流!

参加视频会议环节的学校名单与线下展会有所不同(数量更多),欢迎您下拉至下方学校名单查看!

本活动全程免费,请在填写报名表时务必勾选报名Connect Master Shanghai 线上视频会议环节。

更多线上Zoom会议的参展方式,请咨询QS企业微信小助手(页面最下方二维码)或者发送邮件至qsasia@qs.com
Date & Venue

November 6, 2021 Sat 12:00-14:30
Online Beijing (报名和预约会议请联系企业微信小助手(二维码见活动页))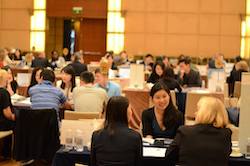 Why attend
Broad range of subjects: attending schools offer a broad range of subjects in business (e.g. finance, management, accounting, marketing, luxury management, real estate, etc.).
Personalisation: QS team will match you with schools based on your study needs and schools' admission requirements, finding you the perfect match.
Application preparation: Deep discussion with admission directors will help you further understand your objectives and your strengths, as well as helping you practices your interview skills.
How to attend
When completing the QS World Grad School Tour registration form, tick "Connect Master 1-2-1" sub-event.
QS team will contact you before the event to help you organise meetings with schools based on your preference and background.
*Please note: candidates register this event will be selected by QS team and schools, only those who receive invitations will be able to attend this event. Please upload your CV in English when registering the event, or you can submit your CV when QS team contacts you later.
Location
School Name
School Representatives
U.S.

Columbia University in the City of New York

U.S.
U.S.

Penn State University. Smeal College of Business

U.S.

Fordham University Gabelli School of Business

U.S.

Syracuse University Martin J. Whitman School of Management

U.S.

University of Pittsburgh Joseph M. Katz Graduate School of Business

U.S.

Northeastern University D'Amore-McKim School of Business

U.S.

University of Illinois Urbana Champaign, Gies College of Business

U.S.
Canada

York University, Schulich School of Business

U.K.

University of Bath School of Management

U.K.
France
France

INSEAD Business School

France

ESSEC Business School

France
France

SKEMA Business School

France

Montpellier Business School

Singapore

National University of Singapore

Malaysia

Taylor's Education Group : Taylor's University Sdn Bhd

Spain
Spain

IESE Business School

Netherlands

Erasmus University, Rotterdam School of Management

Germany

ESMT Berlin European School of Management and Technology

Scholarships

Germany

WHU – Otto Beisheim School of Management

Italy

Bocconi University

Italy

Luiss Guido Carli Roma

Italy

Università Cattolica del Sacro Cuore

Sweden

Royal Institute of Technology

Belgium

Vlerick Business School

Hungary

Széchenyi István University

New Zealand

Massey University

China

University of Nottingham Ningbo China

...and many more schools coming!


Zoom Online Event

*活动更改公告:请注意,由于北京疫情防控邀请,原定于11月28日在北京举行QS全球研究生院巡展,将改在视频会议软件Zoom举行。

Zoom会议链接将在活动前,显示在您的报名账户上,如果您有任何问题,请添加QS企业微信小助手咨询(页面下方二维码)或者发送邮件至qsasia@qs.com